Start Your Day with A Chef-Prepared House Breakfast
Whether your day is planned for leisurely moments by the sea or for activity-filled excursions, Rhythm of the Sea's beautifully presented full, hot breakfasts provide the perfect beginning. Intimate breakfasts are enjoyed on tables arranged for individual dining on and around our veranda, or within our spacious dining room. Our tableside breakfast service compliments seaside experiences here at Rhythm of the Sea, as part of an intimate, peaceful and restorative stay in Cape May.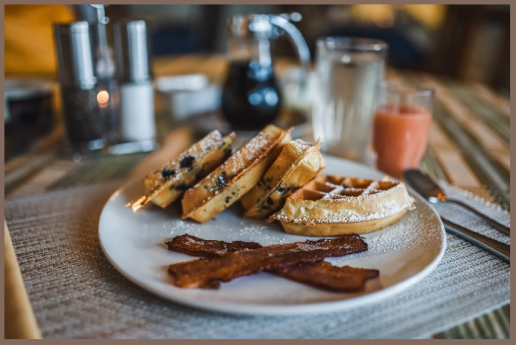 Rhythm of the Sea breakfasts are served as 'Chef-prepared house breakfasts', alternating in style from day to day between savory and sweet. We provide an element of surprise… perhaps one morning a three-egg omelette or a savory baked egg dish, and the next a French toasted brioche with homemeade fruit compote or crisp blueberry waffle, hot off the iron. Breakfast is served with either savory sausages, Applewood smoked bacon or our peppered bacon… which is well enjoyed!

Plan Ahead! Rhythm of the Sea's Annual Valentine's Weekend – Saturday Night Chef's Dinner
Chef Lu's carefully selected and prepared Chef's Dinners are an exciting new offering for guests of Rhythm of the Sea – and at this time they are only  available during our annual Valentine's Weekend Package Stay! His five course dinner is a special complement to your romantic getaway- an evening compliment to a beautiful seaside Romantic Cape May experience.
Who's Behind Rhythm of the Sea's Special Event Menus?
We Thought You'd Want to Know!
Chef-Owner Lulzim Rexhepi
New Rhythm of the Sea Chef-Owner Lulzim Rexhepi developed his love of food as a teen while working under his mother's guidance as a prep cook at Pino Luongo's Le Madri in NYC. After graduating from the Culinary Institute of America, he trained in Europe at various renowned restaurants, most notably Roger Verge's three-Michelin Star Le Moulin de Mougins in France and the Mandarin Oriental hotel in Geneva, before returning to New York to work with Paul Sale at 57/57 in The Four Seasons and Icon at the W Hotel.
In 2004, Chef Lu, as he was called by then, teamed with Chef Ian Chalermkittichai to open the modern Thai restaurant Kittichai, located in the 60 Thompson Hotel, Soho. During extensive culinary tours through Thailand where he was schooled in the intricacies of the various regional Thai dishes, he assisted in creating an eclectic menu that won two stars from the New York Times and many accolades that include Travel + Leisure's "Best New American Restaurants" and Food & Wine's, "Best Asian Restaurants." Upon Chef Ian's return to his native Thailand in 2008, Chef Lu took over the reins of Kittichai's kitchen, with the most recent Michelin Guide, 2010, stating "Kittichai romances you with its setting and elegant cuisine."
In 2011 Chef Lulzim Rexhepi brought his love of seafood and seasonally harvested local ingredients, along with his prolific knowledge of various cuisines together as opening Executive Chef of Cape May's SeaSalt Restaurant. His carefully selected and prepared menus are a unique and exciting aspect of Rhythm of the Sea events. In keeping with the spirit in which Rhythm of the Sea was given its name, Chef Lu creates the perfect interplay of fresh local foods and flavors – a complement to a beautiful seaside Cape May Special Occasion.
Dining in Town – Local Restaurants in Cape May, NJ
With such a selection of enjoyable dining in Cape May… we're happy to share our favorites with you!
Seafood
Cape May Fish Market (BYOB)
H & H Seafood (BYOB) *temporarily closed off-season
Mayer's Tavern (full bar) *late season open Wed-Sat
Prawn Restaurant (BYOB) *temporarily closed off-season
The Lobster House (full bar)
Two Mile Landing & Crab House (full bar) *temporarily closed off-season
Upscale
Black Duck on Sunset (BYOB) *late season open Thurs-Mon
Grana (BYOB) *late season open Thurs-Mon
Peter Shields Restaurant (BYOB – close by)  *closed Tuesdays
Primal by Mia Mia (BYOB) *late season open Thurs-Sun
The Ebbitt Room (full bar) *late season open Wed-Sun
The Pier House Restaurant – La Mer Hotel (full bar – close by) *late season open Thurs-Sun
Union Park Dining Room (BYOB – close by) *closed Tuesdays
Vintage (BYOB) *closed Mondays
Washington Inn (full bar) *late season open Thurs-Sat
Casual with bar
Exit Zero Filling Station (on-island) / Exit Zero Ferry Station (off-island)
Fins Bar and Grille *late season open Thurs-Mon
Harry's Bar & Grille – Montreal Hotel (close by) *late season open Thurs-Sun
Hemingway's Steak and Seafood Restaurant – Grand Hotel (close by)
Lucky Bones Back Water Grille
Mad Batter Restaurant and Bar
Oyster Bay Restaurant and Bar *late season open Wed-Sat
Rusty Nail *temporarily closed off-season
The Lookout at Ferry Park (off-island) *late season open Wed-Sun
Casual BYOB
410 Bank Street Restaurant *late season open Wed-Sun
A Good Earth Organic Eatery *late season open Fri-Sun
Backstreet Café *temporarily closed off-season
Freda's Café *late season open Fri-Mon
George's Place
Louisa's Café *temporarily closed off-season
The YB *late season open Thurs-Mon
Tisha's Fine Dining
Italian BYOB
Andrea Trattoria Italiana *closed Tuesdays
Iccara Italian Bistro *late season open Thurs-Sun
Panico's Bistro *late season open Thurs-Sun
Ristorante A Ca Mia *late season open Fri-Mon
Sapore Italiano 
Viggiano's on Sunset *late season open Wed-Sun
Mexican BYOB
Big Wave Burritos *closed Sundays
El Pueblo Taqueria *late season open Tues-Sat
La Doña Restaurante Mexicano *temporarily closed off-season
Taco Caballito Taquileria *closed Wednesdays
Asian
Foo Bao*opens Spring 2023!
Yozu Japanese Restaurant (off-island) *closed Mondays
Lobster Rolls
La La Lobster *temporarily closed off-season
Quincy's Original Lobster Rolls *late season open Thurs-Sun
Sandwich Spots
Westside Market *late season open Thurs-Sun
Pizza
Blue Moon Pizza
Cappy's Seaside Pizza and Steaks *late season closed Sundays
Jojo Pizza
Tony's Pizzeria and Restaurant
Bakeries
Beach Plum Farm Bakery *late season open Fri-Mon
Chez Michel *late season open Thurs-Mon
Madison's Bakery
Pretty Tasty Cupcake Boutique
Ice Cream
Fine Fellows
Kohr Brothers
Peace Pie
Uncle Charley's
For additional Local Dining information please refer to the link below-
CapeMay.com Restaurants Directory