Start Your Day with A Chef-Prepared Breakfast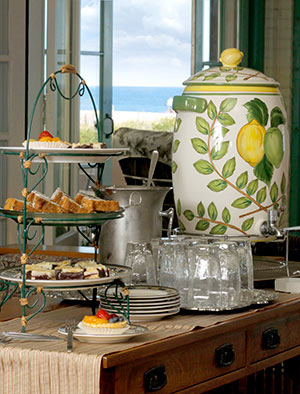 Food…glorious food! It's what guests rave about when they stay at Rhythm of the Sea. A full, individually prepared breakfast is served up daily. Seated at round, conversation-inducing tables set for four you will begin your day with fresh brewed 100% Colombian coffee. Chilled juice is already on the table. Most days you can expect a fruit starter. Perhaps a banana split or a breakfast parfait with our own made granola. Always using local seasonal fruit and berries. Always something innovative!
Pepper Your Morning with Good Food and Warm Conversation
We alternate our breakfast; sweet one-day, then savory the next! You will enjoy the likes of a 3-egg omelette with your choice of fillings or perhaps "French Toast" with brioche; topped with a sliver of baked custard, a sprinkle of cinnamon and powdered sugar and a scattering of fresh berries. This is served with either Applewood smoked bacon or our Peppered bacon, which is to die for! When you stay for a week you will never be served the same breakfast twice!
Dining in Town – Local Restaurants in Cape May, NJ
With such a selection of fine, fun, or family dining in Cape May, it is hard to play favorites. We're happy to point you in the right direction depending on the atmosphere and cuisine you desire.
We have sample menus for you to peruse and Amy and Mara are happy to make reservations for you.